Peter Edey
CHEF - Barbados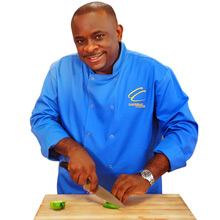 Arguably Barbados' most celebrated Chef, the name Peter Edey is now synonymous with Caribbean cuisine; generating a resurgence of pride in indigenous Barbadian and Caribbean foods and the cooking methods that make them unique.
Graduating at the top of his class at the Barbados Hotel School, an 18 year old Peter seemed destined for greatness in pursuing the only career choice he had made since being age 12. A burning desire for knowledge and experience in his field took him through such local luxury Hotels as the Miramar, (now the Royal Pavilion), The Barbados Hilton, Sandy Beach and Cobblers Cove. Additionally he worked on Cruise Ships, and at luxury resorts in Canada, the United States, France and the United Kingdom.
Global certification came with the attainment of the "Grande Diplome" from the prestigious Culinary College, Ecole de Gastronomie Ritz Escoffier, Paris in 1995, making Peter one of only a few Barbadian internationally qualified Executive Chefs. Further, he then became a certified culinary educator; enabling him to train, certify and accredit aspiring Chefs.
In 1999, after lecturing at the Hospitality Division of The Barbados Community College for twelve years; in addition to being President of the Barbados Culinary Federation and Treasurer of the Caribbean Culinary Federation, and undertaking a number of regional and international consultancies for agencies such as the Canadian Training Awards Projects, the Caribbean Development Bank, The Barbados Tourism Authority, Roberts Manufacturing and ADM Barbados Mills, as well as managing the then very successful Barbados Culinary team, Chef Edey decided to slow down by launching his own business.
In seven years, from the humble start of a staff of two persons in a basement, the Dining Club Group is now made up of four major entities employing one hundred and five persons.
Over the last four years Chef Edey has built a media legacy through a dynamic and extremely popular series of television shows. "Cooking the Bajan way", "Duelling Chefs", "Junior Duelling Challenge" and "Caribbean Cuizine" have taken the Caribbean by storm, being broadcast on CMC's network to 15 million viewers in the Caribbean and North America. These shows currently hold top ratings on local and regional television.
Chef Edey now does more than twenty international appearances annually, across the United States, Canada and the Caribbean ministering the virtues of Caribbean food and beverage.
See more of Chef Peter Edey at www.caribbeancuisine.net